\m/Name: Chelsea
\m/Age: 16
\m/Location: Canada
\m/Gender: Female

\m/Ten favorite bands(don't all have to be metal bands):
As of this moment, they are:
- Iron Maiden
- Iced Earth
- Symphony X
- Dream Theater
- Vintersorg
- Pain of Salvation
- Anything Arjen Luccasen is involved in (SPACE METAL! \m/)
- Anything Dan Swano is involved in
- The Devin Townsend Band + Strapping Young Lad
- Blind Guardian

\m/Five favorite movies:
The Princess Bride (Yes, I am a huge sap)
Lord of the Rings Trilogy
Pre-suck Disney Movies (How metal is that!?)
Monty Python Movies
Eternal Sunshine Of The Spotless Mind

\m/Five favorite books:
The Dark Tower Series
Memoirs of a Geisha
The Stand (Just need the guts to finish it..)
Earth's Children Series
Lord of the Rings

\m/What is an interesting fact about you?
I make fun of pretty much everything and everyone. I don't think that you're truly human until you can laugh at yourself. Oh, and I think I enjoy being a nerd far too much.

\m/If you could be anything besides yourself for a day, what would you be, and why?
Hmmmmmmmmm. Good question. I would probably say Devin Townsend because I really want to know what the fuck goes on in his head.

\m/What was the Best Metal concert you've been to?
I haven't been to any real metal concerts as of yet. I've been to some decent local shows, but nothing too spectacular.

\m/Post a pic of yourself. If not of yourself, then of your art, or any picture you'd like to share. If you dont have an Image Host, I suggest using one such as http://www.photobucket.com . The image must show up in your application, not just the link.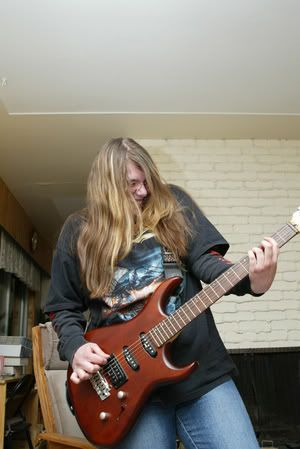 Thats just me being a complete dumbass with my guitar that I just bought recently.