\m/Name: Paulina
\m/Age: 15
\m/Location:Boston, MA
\m/Gender: Female
\m/Ten favorite bands(don't all have to be metal bands):
Opeth
Lamb of God
Children of Bodom
Tristania
System of a Down
Rammstein
Dimmu Borgir
[old Metallica]
Led Zeppelin
Kittie
\m/Five favorite movies:
Nightmare Before Christmas
Edward Scissorhands
Better Than Chocolate
Killadelphia
Boondock Saints
\m/Five favorite books:
Cuilty Pleasures by Laurell K Hamilton [and the rest of the series]
Shattered Mirror by Amelia Atwater-Rhodes
Desperation by Stephen King
Demon In My View by Amelia Atwater-Rhodes
Holes by Lois Sachar [um, dont laugh.]
\m/What is an interesting fact about you?I'm really skilled with duct tape and I made useful things, liek wallets and such. I'm bi. Music is my life. I love my Johnny X_x [thats my iPod]. I also love Johnny the Homicidal Maniac. I love safety pins and usually find some way to incorporate them into my outfits.And, although I'm still learning, I play guitar. Thats me in a nutshell.
\m/If you could be anything besides yourself for a day, what would you be, and why?eh, anyone except for who I am right now. because I'm not so happy with myself right now.
\m/What was the Best Metal concert you've been to?Okay, now you get to see le loseur I really am right now. I have been to concerts, just not METAL ones, that I would really ENJOY. BUT, that does not mean I'm not DYING to go to one. OR two or ten.
\m/Post a pic of yourself.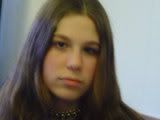 That is REALLY old.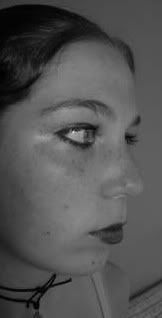 Slightly more recent.

Ewww.