Name: Caroline
Age: 17
Location: Spokane, WA
Gender: Female

Ten favorite bands(don't all have to be metal bands): Pantera, Jack off Jill, early Metallica, Type O Negative, Acid Bath, Morbid Angel, Alice In Chains, Slayer, Malevolent Creation and Nile [in no particular order]


Five favorite movies: Blade Runner, American Beauty, Blues Brothers, Amelie and Gummo


Five favorite books: The Corrections, Widow for One Year, The Great Gatsby, Party Monster (it's MUCH better than the movie, let me tell you) and 1984


What is an interesting fact about you? I really like Hello Kitty stuff

If you could be anything besides yourself for a day, what would you be, and why? Probably a photojournalist

What was the Best Metal concert you've been to? Origin and Malevolent Creation...other than that I've only been to local shows

Here is a picture of me: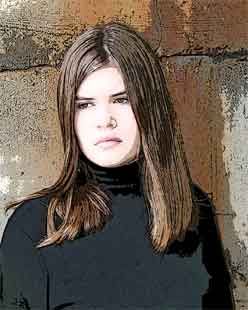 Before I forget, the banner's in my userinfo.