\m/Name: Laura.
\m/Age: 15.
\m/Location: Texas.
\m/Gender: Female.

\m/Ten favorite bands(don't all have to be metal bands):
01.] Kataxu.
02.] Branikald.
03.] Forest.
04.] Astrofaes.
05.] Acolyte's Ruin.
06.] Hate Forest.
07.] Temnozor.
08.] Finist.
09.] Summoning.
10.] Vintersorg.

[non-metal] The Red King, Wongraven, Nortt, Vinterriket, Arcana, Angel of Decay, FANISK, Herbstwerk, etc.

\m/Five favorite movies:
01.] Lord of the Rings.
02.] Hitchhiker's Guide to the Galaxy.
03.] V for Vendetta.
04.] Final Fantasy VII: Advent Children.
05.] Emperor's New Groove.

</b>\m/Five favorite books:</b>
01.] The Hobbit.
02.] Lord of the Rings.
03.] Hitchhiker's Guide to the Galaxy.
04.] The Dream Cycle of H.P. Lovecraft.
05.] Angels & Demons.


\m/What is an interesting fact about you?
I'm not interesting. The end.

\m/If you could be anything besides yourself for a day, what would you be, and why?
Nothing. I enjoy my plain & simple like of playing videogames with my boyfriend everyday.

\m/What was the Best Metal concert you've been to?
None, honestly. There was always some band screwing it up. Though, I guess, if I had to choose, it would be the Opeth show I went to in October '06. I don't like them anymore though, but I still remember how amazing the show was.

\m/As this is a new community, please post our banner (your choice of banners below) in your own journal. If you are in a community that WELCOMES community banners, post one there as well.

\m/Post a pic of yourself. If not of yourself, then of your art, or any picture you'd like to share. If you dont have an Image Host, I suggest using one such as http://www.photobucket.com . The image must show up in your introduction, not just the link.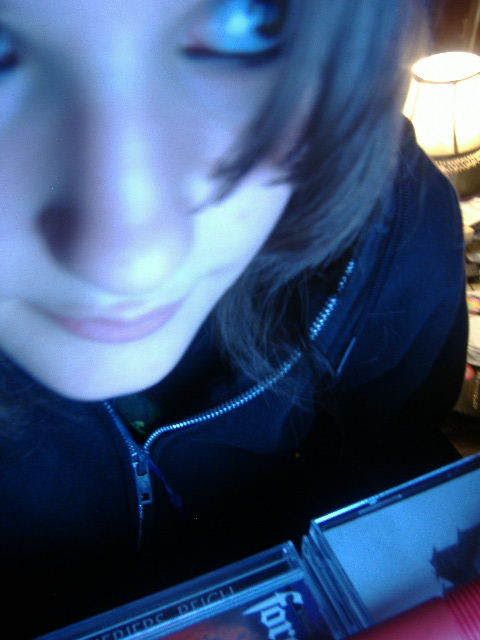 Nya