\m/Name: Emily
\m/Age: 18
\m/Location: Virginia
\m/Gender: Female

\m/Ten favorite bands(don't all have to be metal bands):
Tristania, Nightwish, Therion, Celldweller, Unexpect, Into Eternity, Moonsorrow, Dir en grey, After Forever, Kamelot.

\m/Five favorite movies:
300, The Fifth Element, pretty much all Dracula & Nosferatu movies (esp. ones with Bela Lugosi), Indiana Jones, Mata Hari

\m/Five favorite books:
Battle Royale, Alice in Wonderland, The Picture of Dorian Grey, The Awakening, Dracula

\m/What is an interesting fact about you?
I'm a Christian, and straight edge. I'm graduating this Friday, and I just received an amazing excuse not to drink in college (Christopher Newport, btw) - apparently I'd be prone to seizures if I drank even a little bit. Not even wine at dinner. Eh, I'll survive.

\m/If you could be anything besides yourself for a day, what would you be, and why?
A guy. Just to see what it's like.

\m/What was the Best Metal concert you've been to?
Scar Symmetry/Into Eternity/Dark Tranquility. I'm pretty short (5'2"), so I had some trouble getting a good vantage point, surrounded by all these huge guys, but it was amazing nonetheless. But I'm sure there will be more, because I just discovered this concert hall that has all these amazing amazing bands come. It just had Within Temptation, and will have Virgin Black, Kamelot, Epica, Therion, and is the very first stop in NIGHTWISH'S AMERICAN TOUR.

\m/As this is a new community, please post our banner (your choice of banners below) in your own journal. If you are in a community that WELCOMES community banners, post one there as well.
Done.

\m/Post a pic of yourself. If not of yourself, then of your art, or any picture you'd like to share. If you dont have an Image Host, I suggest using one such as http://www.photobucket.com . The image must show up in your introduction, not just the link.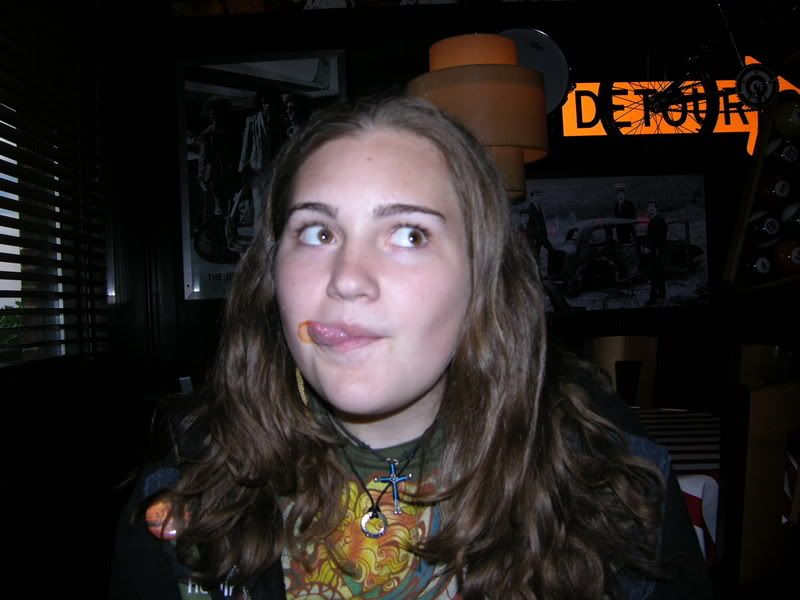 Me at TGIFridays after filming an spoof on existentialism for AP Lit class.


EDIT: Just wanted to say... I love how international this community is.