Introduction....
\m/Name: Lindsay/Lins
\m/Age:24
\m/Location: Tennessee
\m/Gender:Female

\m/Ten favorite bands(don't all have to be metal bands):
1. T-Rex!!!!!!!!
2. Ulver
3. Darkthrone
4. Thin Lizzy
5. Goblin
6. Judas Priest
7. Assfactor4
8. Wolves in The Throne Room
9. Ludicra
10. The Cure

\m/Five favorite movies: (i love too many just to name 5 so i'll do 10)
1.suspiria
2.rock n' roll high school
3.marie antionette
4.blood sucking freaks(and the 458046 others names it goes by)
5.the beyond
6.the gates of hell
7.profondo rosso
8.near dark
9.scanners
10.the call of cthulhu


\m/Five favorite books:
1. Youth in Revolt by C.D.Payne
2. A Scanner Darkly by Phillip K. Dick
3. Cat's Cradle by Kurt Vonnegut Jr.
4. Rereading Sex by Helen Horowitz
5. All I Need To Know About Filmaking I Learned From The Toxic Avenger by Lloyd Kaufman


\m/What is an interesting fact about you?
I've had the same hair dryer since age 7. haha!

\m/If you could be anything besides yourself for a day, what would you be, and why?
I'd kind of like to be someone from my family before they immigrated from Germany back in the 1800's. I've always thought I was born in the wrong time period anyway.

\m/What was the Best Metal concert you've been to?

I'd have to say Weedeater(from NC) or Bible of the Devil(from Chicago).

I've never seen any big names in metal..*ducks*

\m/As this is a new community, please post our banner (your choice of banners below) in your own journal. If you are in a community that WELCOMES community banners, post one there as well.


http://avnatten.livejournal.com/profile


\m/Post a pic of yourself.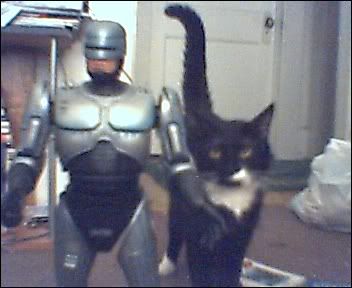 And here's my cat(best dude ever!), Hellhammer