Name: Mae
Age: 20
Location: San Francisco, CA
Gender: Girl

Ten favorite bands(don't all have to be metal bands):
It's really hard to pick favorites so I'll just say what I've been listening to Tool, Necrophagist, Emperor, Bikini Kill, Kimya Dawson, Cibo Matto, Hiromi, Acid Mothers Temple, Boredoms, Beastie Boys


Five favorite movies:
- Survive Style 5+
- Kamikaze Girls
- Eternal Sunshine of the Spotless Mind
- Night of the Living Dead
- Halloween (1978)


Five favorite books:
- Zombie Survival Guide by Max Brooks
- Story of the Eye by Georges Bataille
- Gertrude Stein: Look at Me Now and Here I Am: Writings and Lectures 1909-45
- Stone Butch Blues by Leslie Feinburg
- Pippi Longstocking by Astrid Lindgren


What is an interesting fact about you? I am oddly obsessed with zombies and zombie theory, I run a distro and write zines.

If you could be anything besides yourself for a day, what would you be, and why? I don't think I would want to be anyone else...

What was the Best Metal concert you've been to?
It was a Cannibal Corpse, Necrophagist and Dying Fetus show. There was another band there but my memory escapes me. I really love Necrophagist and Dying Fetus. They were so fun. I remember I was headbanging so hard and my hair kept hitting this girl behind me and she punched my head. I didn't care because I was really happy. Ha ha.


Post a pic of yourself. If not of yourself, then of your art, or any picture you'd like to share.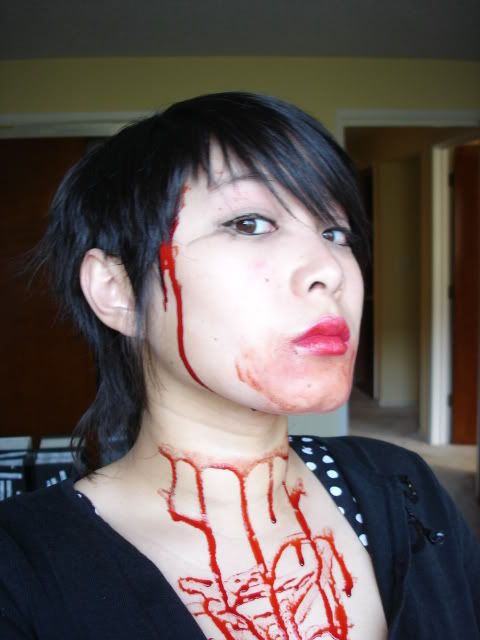 me at halloween last year.

This community is real sweet.