Name: Hayley
Age: Fifteen
Location: Peterborough, England
Gender: Female

Ten favorite bands(don't all have to be metal bands):
Currently:
1) Mendeed
2) Turisas
3) Jack Off Jill
4) Kittie
5) Carnival In Coal
6) Brassphemy
7) Alestorm
8) Basshunter
9) Korpiklaani
10) Wednesday 13


Five favorite movies:
1) Ginger Snaps
2) Thir13en Ghosts
3) Brokeback Mountain
4) The Silence of the Lambs
5) Land of the Dead


Five favorite books:
1) The Zombie Survival Guide- Max Brooks
2) I Capture The Castle- Dodie Smith
3) The Taming of the Shrew- William Shakespeare
4) To Kill A Mockingbird- Harper Lee
5) One Flew Over The Cuckoo's Nest- Ken Kesey


What is an interesting fact about you?
I can write HTML like a motherlicker ;)

If you could be anything besides yourself for a day, what would you be, and why?
I'd be a film director... Just because it'd be awesome :D

What was the Best Metal concert you've been to?
Well I went to see Alestorm last week, dressed as a pirate, and they were pretty amazing. But I think the best would be the Mendeed concert I went to on 15th September 2006, it was actually amazing.

As this is a new community, please post our banner (your choice of banners below) in your own journal. If you are in a community that WELCOMES community banners, post one there as well.
Right-o

Post a pic of yourself. If not of yourself, then of your art, or any picture you'd like to share.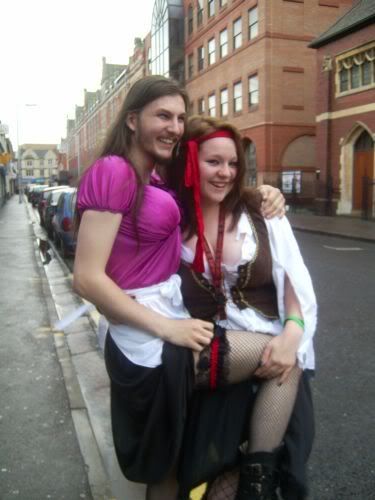 (I am the one that isn't a man ;))