\m/Name: Jolty or Caleigh, whatever.
\m/Age: 21
\m/Location: Calgary, Canada
\m/Gender: Female, which is the whole reason I'm joining this community in the first place.

\m/Ten favorite bands(don't all have to be metal bands):
Dark Tranquillity
Agalloch
Opeth
Amon Amarth
Nile
Death
Wintersun
Korpiklaani
At The Gates
Dark Lunacy

\m/Five favorite movies:
Metal: A Headbanger's Journey
Heavy Metal in Baghdad
Edelweiss Pirates
Plague Dogs
2 Girls 1 Cup

\m/Five favorite books:
FUCK

\m/What is an interesting fact about you?
I haven't read a novel since high school. I also don't watch a lot of movies.

\m/If you could be anything besides yourself for a day, what would you be, and why?
I'd be a bird, because then I'd know what it was like to fly. I bet a lot of people say that eh?

\m/What was the Best Metal concert you've been to?

I've been to so many amazing concerts, but I have to say that Amon Amarth put on the best show both times I've seen them. Finntroll were pretty amazing, too.

\m/As this is a new community, please post our banner (your choice of banners below) in your own journal. If you are in a community that WELCOMES community banners, post one there as well.

Sure thing.

\m/Post a pic of yourself. If not of yourself, then of your art, or any picture you'd like to share.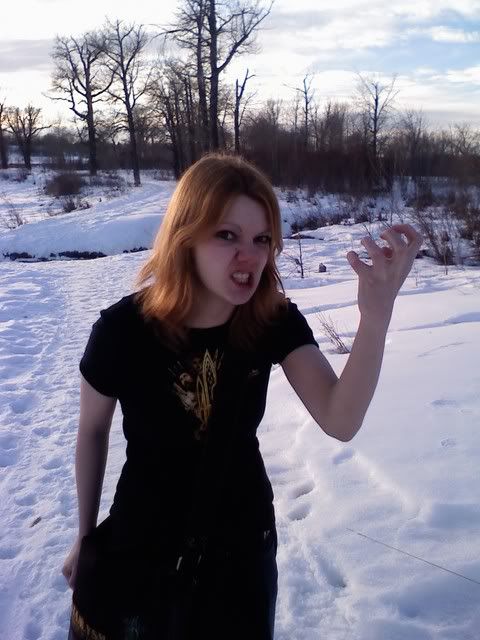 I felt this was appropriate.