\m/Name: Rachel, but I go by Raiyne
\m/Age: 20
\m/Location: Mt Pleasant, Michigan
\m/Gender: Female

\m/Ten favorite bands:
1. Lacuna Coil
2. Killswitch Engage
3. Judas Priest
4. Children of Bodom
5. Novembre
6. Ill Nino
7. Black Sabbath, and Ozzy Osbourne in general
8. Ra
9. Summer Dying
10. Megadeth

\m/Five favorite movies:
1. Pirates of the Caribbean
2. Lord of the Rings
3. Thirteen Ghosts
4. The Little Mermaid (I suppose I'm a kid at heart sometimes..)
5. Pulp Fiction

\m/Five favorite books:
1. The whole Xanth series by Piers Anthony
2. The Magician by Raymond E. Feist
3. The Harry Potter books.. It's an addiction, really...
4. Mary Higgins Clark mystery novels - any of them really
5. The Prophecy by David Eddings

\m/What is an interesting fact about you?
I'm in a band called Pending Demise, I play bass guitar.

\m/If you could be anything besides yourself for a day, what would you be, and why?
Wow, good question. I guess I'd like to be a pirate ship. Mostly because I have an obsession with pirates. I really like the water, so that'd be kind of fun..

\m/How often do you go to concerts/shows?
I try to go as often as I possibly can. I'm going to try to start going to a lot of local shows around here. Last weekend I went to 2 concerts, one on Friday, one on Saturday. Friday I saw Fireball Ministry, Anthrax, Dio, and some local opening bands. Great concert!!!! Saturday I went to the Throwdown, Children of Bodom, Fear Factory, and Lamb of God concert. That was such a great concert. I would recommend it to any of you that like any of those bands if it's coming to your town!

\m/Which two communities did you put our banner in?

ozzfest
and in my journal info

\m/Post a pic of yourself.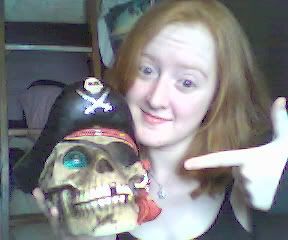 Alright, there ya go.
\m/