Hello, I've joined this community a while ago, but it wasn't until now when I decided to come into the light! ;)


\m/ Name: Gina (my name actually is Georgia, but 'Gina' is how my friends and relatives call me!)
\m/ Age: 19 (turning 20 on July 12th)
\m/ Location: Athens, Greece.

\m/ Ten favorite bands(don't all have to be metal bands): Iron Maiden, Judas Priest, Deep Purple, Led Zeppelin, Arch Enemy, Amon Amarth, AC/DC, Dio, Kiuas, Black Sabbath (I love so many more, but you mentioned 10, right?)


\m/ Five favorite movies: All 3 parts of Lord of the Rings, Vicky & Christina in Barcelona, Matchpoint (you see, I love Woody Allen's movies), Murder on the Orient Express (a very classic movie...it was shot in 1974, and still it's beautiful!) and Corpse Bride (this one did really give me the laughs!


\m/ Five favorite books: Agatha Christie's Death on the Nile, Murder on the Orient Express and the Mousetrap, J.R.R Tolkien's trilogy Lord of the Rings, Nikos Kazantzakis' The Saviour of God and many more books of English and Greek Literature, but the list will go too far.


\m/ What is an interesting fact about you? Hmmm....I've been preoccupied with astrology for more than 3 years...almost daily, in fact. In astrology, my basic 'identity' is this: I'm a Cancer with Moon in Scorpio and Capricorn ascendant.

\m/ If you could be anything besides yourself for a day, what would you be, and why? Hmmm....I really don't know...maybe a dove to fly away and travel...traveling has always been my biggest dream!

\m/ What was the best metal concert you've been to? Well, I still cherish the first metal concert I've ever been to, on July 1, 2007, when Heaven & Hell were playing on Terra Vibe Park, in Malakasa, Greece. I had gone there mostly for Ronnie Dio, but it turned out to be a very cherished moment for me! And IRON MAIDEN GIG ON AUGUST 2ND, 2008, IN THE SAME PLACE!! *gets starry eyed*

\m/ Do you play a music instrument? If yes, tell us more. Do vocals and singing in the school choir count?

\m/ Post a photo of yourself. If not of yourself, then of your art, or any picture you'd like to share. [If you don't have an Image Host, I suggest using one such as http://www.photobucket.com . The image must show up in your introduction, not just the link.]

OK.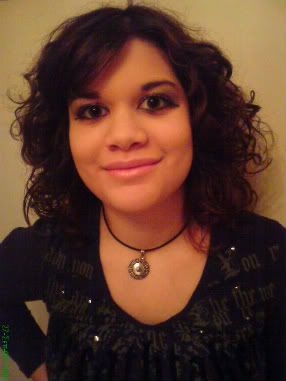 (That last photo was taken before I go out and DJ at a friend's birthday party, hehe!)