Hi ladies, I can appreciate that female fronted is not always everyones thing so I'm not expecting everyone to like this!

You won't find any operatic vocals here, think Doro meets Cristina Scabbia meets Maria Brink and be almost there.
Musically melodic, the new stuff coming from us is heavier than currently on the myspace, heading in a bit of a different direction to Law Of Armour since new vocalist, heading more towards to V is for Violence area.

We are playing Bloodstock this year on the Saturday along with bands such as Solsikk etc.



Introducing Inner Eden!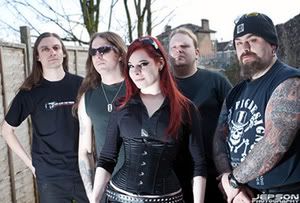 New tracks on the myspace, and new bio.
http://www.myspace.com/innereden
If you are looking for crunching groove laden female fronted metal, with soaring melodies and melodic harmonies - then you are looking for Inner Eden. Combining elements of 90's power groove, 80's thrash and modern day melodic extreme heavy metal displaying an array of textures- while incorporating thought provoking and inspiring lyrics - then Re:Birth is the EP to watch out for.
Mixed by legendary producer Dan Sprigg (who's has previously worked with Cradle of Filth, Napalm Death, Bring me the Horizon and Lost Prophets) the sound encapsulates the raw but beautiful sound the band create. Mastered by Tim Turan (Emperor, At the Gates, Obituary, Motorhead and many more) the huge sound that emits from the speakers is enough to scare even the bravest of Emo Kids.
While giving the nod to metals great genres, Inner Eden manage to blend a modern contemporary style of metal into powerful thrash and power grooves, to give catchy and memorable songs. Their 2009 debut EP shows the definition of their music, and the driving force that is turning heads within the music scene today.
Hailing from London UK and formed in mid 2008 by guitarist and song writer Jay 'The Machine' Murphy , John Rae (Wykked Wytch and Ex-Cradle of Filth drum tech) and Paul Williams - they where subsequently joined by Pierre Croquet who moved form his native country France after leaving Annorexia Nervosa to join the ranks and then by the awe inspiring powerful yet angelic vocalist Holly Bolus, resulting in the formidable and powerful line up you now hear on the Cd.
Re:Birth opens with Throat Slitting Bitch - a sound track to a generation of despair and the disillusionment of society and welcomes you to the honed sound of the band. leading into V is for Violence, a cacophony of melody and demonic riffing telling the story of one women's vengeance on the world. Law of armour shows the dynamic of the band with its beautiful harmonies and soaring vocal lines with Holly telling us ' i am a law of armour, unto myself' and with the appropriately named MURDER DEATH KILL the final track hits you like a sledge hammer as you live the horror of a horrific and brutal attack and human natures will to survive.
With a brutal and uncompromising live show they are here to take the world by storm. with previous experience touring and supporting bands such as Nightwish, Overkill, Lost Prophets, Deicide and Nuclear Assault to name a few Inner Eden are no strangers to hard work and always give 100% into any show they play, winning new fans at every performance.
"Inner Eden are simply awesome a perfect blend of melody/aggression/Harmony and brutality. They played one of the best sets I have seen in a long time." - STU London Promoter
"what DEATH would sound like if Christina Scabbia sang along" - Red Beard Productions
As Jay states "With a full album ready to record, Our EP Re:Birth is just a small taste of things to come, so watch out for coming live shows and grab a copy of the CD when you see us - we are all proud as hell with this record"